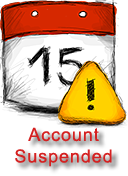 This Account Has Been Suspended or Canceled
Hosting accounts are suspended automatically after non-payment.
In some cases hosting may be suspended for exceeding bandwidth or for dedicated servers exceeding burstable bandwidth for the month or billing cycle.
If this is your account and you believe it is suspended in error please call Lunawebs.com support at 801-755-9966.
To unsuspend your account please make a payment at our payment form or call 801-755-9966.
Important Note:
Suspended accounts may incur a reactivation fee.
Extended suspended accounts may require a data restoration fee in addition to reactivation fees.
Accounts that are deliquent may be subject to cancellation and data deletion at any time which is unrecoverable.